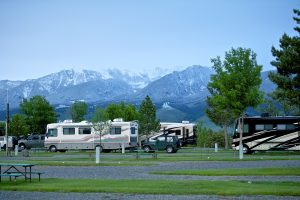 As an RV park, campground, or resort owner, you're aware of the stiff competition in the industry. To make your business stand out when customers search for "RV parks near me," it's essential to optimize your online presence and offer unique experiences. One way to do this is by using Review Trust, a powerful tool that can help you manage your online reputation and attract more customers. In this article, we'll discuss how Review Trust can help your business stand out in the competitive market.
1. Collect and Showcase Customer Reviews with Review Trust
Positive customer reviews are crucial for improving your search rankings and attracting new customers. Review Trust makes it easy to collect and showcase reviews from your customers by automating the process. Here's how it works:
Review Trust sends automated review requests to your customers after their stay at your RV park, campground, or resort.
Customers can easily leave a review using the provided link, and you can choose to display the reviews on your website or social media profiles.
By showcasing positive reviews, you'll establish trust and credibility with potential customers searching for "RV parks near me."
2. Monitor and Respond to Reviews Efficiently
Responding promptly and professionally to customer reviews is essential for maintaining a positive online presence. Review Trust helps you monitor and manage your reviews across multiple platforms, ensuring you never miss an opportunity to engage with your customers. Here's how:
Review Trust consolidates reviews from popular review websites like TripAdvisor, Yelp, and Google My Business, making it easy to monitor all your reviews in one place.
Receive notifications when new reviews are posted, allowing you to respond quickly and professionally.
Use Review Trust's built-in response templates to save time and maintain a consistent brand voice.
3. Leverage Customer Feedback to Improve Your Business
Customer feedback is valuable for identifying areas where your RV park, campground, or resort can improve. Review Trust helps you analyze your customer reviews, providing insights that can help you make data-driven decisions to enhance your offerings. Here's how:
Review Trust's dashboard displays key metrics and trends, allowing you to quickly identify areas for improvement.
Use the feedback provided by your customers to make targeted improvements to your amenities, events, or customer service.
Continuously improving your business based on customer feedback will ensure you remain a top choice for those searching for "RV parks near me."
4. Use Review Trust to Boost Your Online Visibility
In addition to helping you manage your reviews, Review Trust can improve your online visibility, ensuring your business appears in "RV parks near me" searches. Here's how:
By collecting and showcasing positive reviews, you'll improve your search rankings and attract more customers.
Utilize Review Trust's SEO tools to optimize your website and business listings for maximum visibility.
Leverage Review Trust's reputation management features to build a strong online presence and attract more customers searching for "RV parks near me."
Review Trust offers a comprehensive solution to help RV parks, campgrounds, and resort owners stand out in the competitive market. By managing your online reputation, showcasing positive reviews, and leveraging customer feedback for improvement, Review Trust can help you attract more customers and succeed